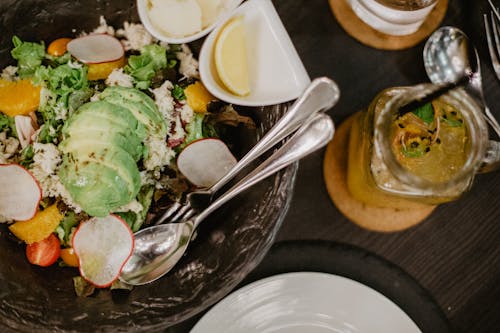 These recipes have the ability to make you feel full while giving you healthy nutrition and a mélange of vitamins and minerals.
Fresh Carrot Salad with Dates and Pistachios
This salad is great because it is so filling. The sweetness and the spice make for an unusual combination.
1 lb. carrots
3 Tbsp. Virgin olive oil
1 tsp. whole cumin seeds
1 tsp. paprika; sweet, hot or smoked
1 tsp. honey
4 dates, pitted and chopped
2 Tbsp. fresh lemon juice
1/3 cup shelled pistachios (walnuts and almonds work as well)
½ tsp. salt
1 Tbsp. fresh mint
In a small skillet heat the oil and roast the cumin seeds until they turn a shade darker.
Remove from heat and add paprika and honey. Let it cool to room temperature.
Coarsely grate the carrots.
In a bowl, toss the carrots with the cooled cumin/honey mixture. Add dates, lemon juice, nuts and salt. Use your hands the mix it all together.
Just before serving add the mint into the mix.
180 calories
10 grams fat
21 grams carbs
Sweet Potato Salad
This can be served as an appetizer or as a side dish with meat or chicken. It is sweet and sour and has an unusual color.
4 large sweet potatoes
4 Tbsp. Olive oil
¼ cup red wine or sherry vinegar
1 Red Bell Pepper, cut into quarters
2 tsp. cumin
1 Tbsp. orange zest (optional)
½ cup sliced scallions
½ cup fresh mint or parsley
1 fresh jalapeno pepper
1 Tbsp. orange zest
¼ cup raisins (optional)
Preheat oven to 400°. Peel the potatoes, cut into bite size pieces. Put on a baking sheet in a single layer and brush with olive oil to coat. Sprinkle salt and pepper and roast turning occasionally for about 30 minutes, or until brown from all sides and soft inside.
In a blender put the remaining oil, vinegar, bell pepper, cumin and zest. Add salt and pepper and puree until smooth.
Toss the warm potatoes with scallions, mint, chilies and raisins and add the dressing, toss to coat.
Eggs in Purgatory
This dish is great for breakfast (In the Middle East this dish is called Shakshuka) or for a light dinner. Since the new advice is to have a few eggs a week, this is a great recipe that does not use a lot of oil. The egg is known as a 'feel full' food.
You can use any leftover tomato sauce or spaghetti sauce. Making it by yourself (as opposed to buying it in a jar) will ensure that you have only healthy ingredients.
Tomato sauce
1 Tbsp. olive oil
1 medium size onion
3-4 cloves of garlic
4 medium size tomatoes, belched and skin removed
2 Tbsp. crushed red pepper
Salt, pepper, and a pinch of sugar.
Heat olive oil in a large skillet, add onions and cook until they become translucent.
Add garlic and crushed red pepper and fry for 5 more minutes, stirring occasionally.
Cut tomatoes into medium pieces and add to the skillet. Add salt and sugar.
Cover and simmer for 15-20 minutes.
When the sauce is ready, make little depressions in the sauce with a spoon and break an egg into each of them. 1 egg per person. Cook for the hardiness desired.
With Shakshuka, traditionally your start with onions and red bel pepper. If you would like it spicier add chili peppers as well.
Makes 4-6 servings
146 calories per serving
5 gram fat
20 grams carbs
Chicken Piccata
Serves 4
4 Chicken breasts
½ cup all-purpose flour
2 Tbsp. butter
1 tsp. olive oil
¼ cup fresh lemon juice
¼ cup dry white wine
3 Tbsp. capers, drained and rinsed
Salt & pepper
Flatten the chicken breasts. Put them between two sheets of plastic wrap and pound with a heavy object, working from the center to the edges.
Combine flour, salt and pepper. Roll the flattened breasts in the mixture to coat.
In a large skillet, melt butter and olive oil and add floured chicken.Cook 3 to 5 minutes on each side until tender. Remove from heat and set aside.
In the same skillet pour lemon juice, wine and capers. Scrape the bottom of the skillet to release all the brown bits. Reduce liquids by boiling an additional 5 minutes.
Pour over the chicken.
258Calories per serving
10 grams fat per serving
10 grams carbs per serving